Non-Resident

Discounted Resident
Rate*

General** (13-59)

$24.95

$14.95

Child (3-12)

$12.95

$10.95

Child (0-2)
Free
Free

Senior (60+)/Military (with ID)

$22.95

$12.95

EBT/BIC Card
$4.00
$4.00

Zoo Members

Included with membership

Included with membership
*Humboldt County Residents Receive Discounted Admission (must show proof of residency – driver's license, utility bill, lease agreement, paystub, etc.).
**Children 15 years old and younger must be accompanied by a paid adult (age 18+) to enter the Zoo and throughout their visit, including at all times on the Redwood Sky Walk. "Paid adult" includes adults 18+ with valid, unexpired admission, membership, or complimentary tickets.
Redwood Sky Walk
at the Sequoia Park Zoo
3414 W St, Eureka, CA 95503

 REDWOOD SKY WALK ROUTE MAP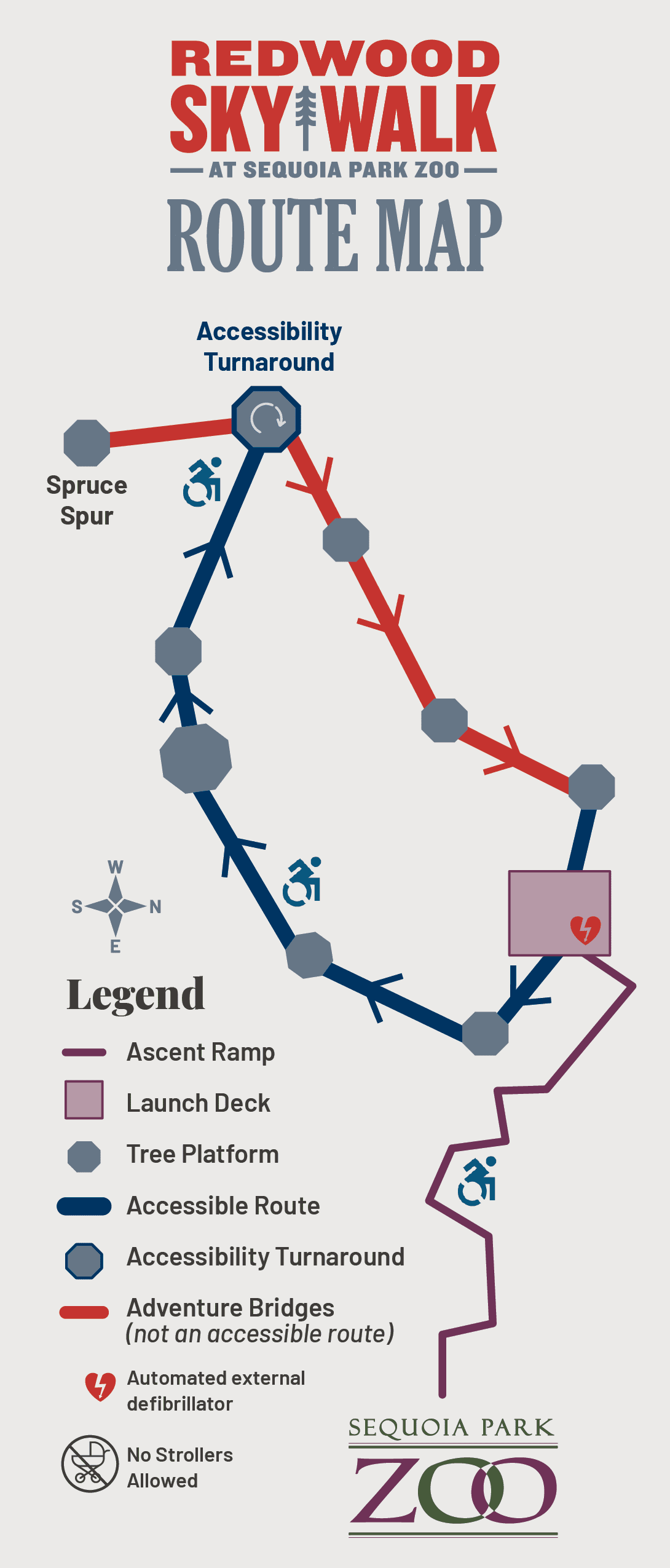 Explore the Redwood Sky Walk
To help plan your visit in the trees, the Redwood Sky Walk Route Map shows the various platforms and bridges that make up the experience. There are no stairs, and the experience is ADA accessible aside from one (optional) 369-foot adventure segment, indicated in red on the route map. The portion of the experience that is ADA accessible is indicated in blue. The Redwood Sky Walk is just under 1/4 mile to the end and back.

ETIQUETTE IN THE SKY
To get the most out of your Redwood Sky Walk experience, be as quiet and still as possible. The more you look, the more you'll see. Listen closely and you may hear animal sounds breaking the deep quiet. Inhale deeply and you'll smell the moist, rich organic soil.
Help us maintain these magnificent trees for future generations to enjoy. Please stay safe, responsible, and respectful throughout your visit.
No reservation is required. The Redwood Sky Walk is included as part of your zoo admission.  Please be aware that during adverse weather (high winds and lightning) the Redwood Sky Walk may be forced to close.